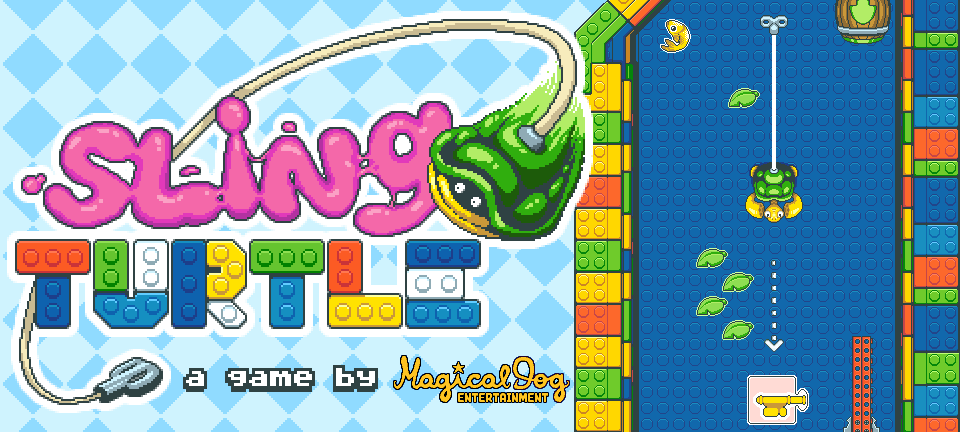 Sling Turtle
Description
Sling Turtle is a mini-golf-style game with a toy turtle as the protagonist.
Set in an imaginary children's universe, it rescues nostalgia for old games, bringing fun from start to finish.
You must precisely adjust the turtle's strength and direction to go through each of the stages and increase your score. However, with increasing levels of difficulty, you will always be challenged to show all your skill with various Legos, Amoebas and various other toys scattered throughout the scenarios.
Commands
● With the left mouse button, click on the turtle, hold and drag to pull the string and prepare the launch, and then release to launch. The turtle will always go to the opposite side of the pull. The further you pull the cord, the further it will go.
● To move the camera, click and hold the left button on the scene, and then drag the mouse pointer to move.
● To be released from the barrel, right-click
Conditions
● Collect all the pieces of the puzzle to pass the stage .
● Score collecting leaflets, where each one gives you 10 points.
● During the same phase, every 20 sheets collected or 500 points obtained, one shot / extra life will be won.
● Collect goldfish and multiply your score. For example, if my score was 200 and a goldfish was collected, 200 points will be added, giving a total score of 400.
● Each unused shot will count 10 more points at the end of the stage. For example: 200 points were obtained, 1 goldfish and 3 remaining strokes. Then the score will be, respectively: 200 + 200 + 30 = 430.
Story
Sling Turtle created by the independent game development team Magical Dog Entertainment, for the 5th Games Marathon of the Academia de Produção de Jogos, with the intention of being a casual game and playable mainly by children and adolescents.
With a creative and very collaborative team, every detail of the game was designed to bring an excellent player experience and nostalgia with both visual and sound elements that refer to the toys of the 80s and 90s.
Game Character
● Charismatic character;
● Captivating soundtrack;
● Progressive difficulty;
● Colorful and nostalgic environment;
● Simple mechanics;
● 40 relaxing and fun phases;
Team
● Developer: Adriano Veríssimo
Music and SFX: Andrea Vargas
Game Designer: Diego Manarim
Trainee: Felipe Marques

Email: felipemduarte@yahoo.com.br

Art:

Rodrigo Andrade
Richard Pongeluppi